Making quality appliance rentals easy

Find the best appliances to rent, at prices you'll love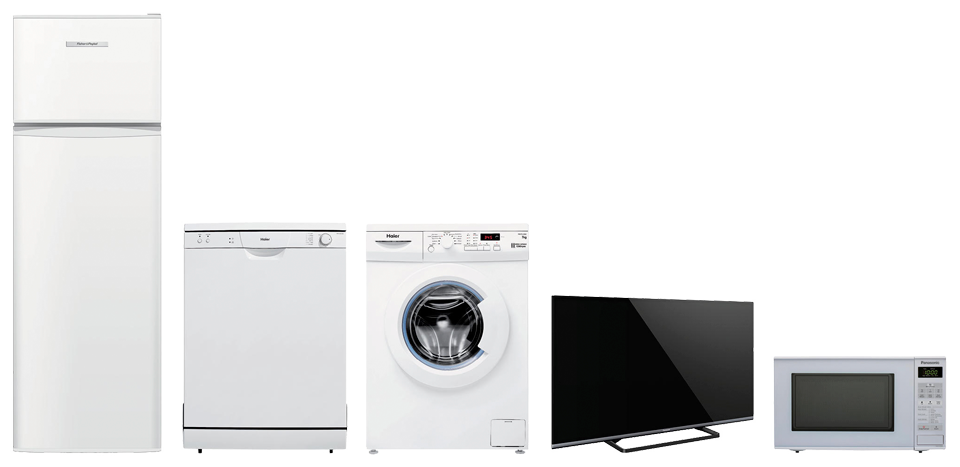 Customer service
you can count on
Friendly, fast and flexible, we're proud to offer an exceptional service for our customers. From sign up and delivery, to ongoing maintenance and support, get a personalised appliance rental service you can count on.

Easy and
convenient
We're here to make your life easier. With a quick and simple sign up, no hidden fees and flexible delivery, we take the stress out of appliance rental.

Affordable prices
that work for you
Find premium quality appliances to rent at affordable prices. We offer some of the most competitive prices in Auckland, with free delivery and installation.

Quality and
reliable brands
Using industry-leading brands, we provide high-quality and reliable appliance rentals. From fridges to vacuums (and everything in between), we've been trusted by Aucklanders for over 10 years.
FEATURED PRODUCTS
No Bond, No Set up Fees, Free Installation
Minimum 3 month rental period
Fridges & Freezers
From fridge freezers to chest freezers, choose from our range of sizes from just $12 a week!
Washers & Dryers
Get all your laundry needs sorted with our washing machine and dryer rentals. Fast, quiet and reliable, find an easy solution for your laundry appliances.
Televisions
Keep the whole household entertained with our television rentals. Choose from a variety of LG and Panasonic LCD and Plasma TVs at affordable weekly prices.
Dishwashers
Save time and money with our premium range Haier and EuroTech dishwasher rentals. Fast, quiet and reliable, make kitchen cleanups a breeze.
Home Appliances
From vacuums and dehumidifiers, to microwaves, find everyday home appliances at competitive prices.
Students
With easy delivery, affordable pricing and special student discounts, EZ Rentals are your number #1 choice for student appliance rentals.  

Going flatting and need appliances?
Check out our special student rates and deals, all you need is your student ID.
Why choose EZ Rentals?
– FREE delivery
– NO set up fees
– NO hidden costs
– FREE repair or replacement
– FREE moving – if you move
– Flexible delivery and rental times
SPECIAL DEALS ALL YEAR ROUND!
See what our customers have to say
Have had a great experience so far. Easy to deal with and they pick up appliances and relocate them free of charge which was very handy for us when moving house!
DGI Trainer
00:13 11 Oct 18
We have used EZ Rentals for an extended period of time and have always found their service to be impeccable. Polite, friendly staff whom ensure your experience with them is outstanding. Happy to recommend this company to anyone.
Neil Modrich
23:33 23 Jul 18
I had 4 years of great service. Quick response and quick delivery. I rented washing machine, tumble dryer and fridge until I could afford to buy. No hassles when appliance needed exchanging. Highly recommended.
Denise vd Westhuizen
04:05 23 May 18
I have had a wonderful experience with EZ Rentals over a number of years. Great service especially with delivery, pick-up and moving. Great customer experience over my time renting from them.
I used EZ Rentals for approx 3 years, and I can put my experience into one word - AWESOME. Easy to deal with from the start, freindly and helpful. Great prices, great service. Thoroughly recommend
Terry Thorne RF Master Trainer
02:43 31 May 18
Fantastic Service! We had a Fridge, Washer & Dryer for 18 months while renting in Devonport. Worked perfectly for us for the time we needed it. Highly recommended! Thanks!
Gordon Barry
08:35 04 Sep 18
We rented a washing machine for over a year and the experience was awesome. The company was very prompt to respond to our needs and communication was excellent. The customer service in person and on the phone is very friendly, so overall brilliant!!!!Thankyou
Caroline Selwyn
23:12 10 Sep 18
Hired a fridge from them for two years. The whole experience was easy. Pickup was simple and staff super friendly.
Anthea Hill
00:55 17 Sep 18
Our TV broke we needed a temporary fix EZ rentals are what they say. Great service delivered and picked up easy as. Thank you
Dale Lynes
08:21 12 Oct 18
When our dryer and washing machine both died at almost the same time, we were in no financial position to buy, so EZ REntals were the perfect option . Both the dryer and the washing machine were of exceptional working standard ( we are a big family, so they were well used). We finally had enough to buy , but if we ever need to rent again, we will defintely be back.
Sasha Kaio
07:27 10 Jan 19
EZ Rentals equipment was top notch, helped us out for a period where we didn't have the funds to buy a fridge and when I called to return the fridge they came that week and took it away no worries. Even when I forgot to put a shelf back in the freezer they just came the following week and took it away no worries. All in all, just a good company with good service who can help you out of a tight spot for a few months.
Fantastic customer service at really great rates.
Tania Thorne
21:37 04 Mar 19
Sorted in very short notice and Tania was excellent to deal with.
Shaun Morrow
04:27 12 May 19
Rented a fridge for a start up I work at. Super quick and easy delivery, friendly and competent staff all round!
Theo Martin
05:14 14 May 19
Great customer service and delivery. Everything is dealt with quickly and thoroughly, also the items we rent are great quality and super cheap to rent! Would recommend to anyone.
Amy Callan
03:03 30 Jul 19
Fantastic customer service (thanks, Tania), and incredibly flexible when our dates for return of the fridge changed a couple of times! I highly recommend EZ Rentals - they are awesome.
Awesome customer service, really easy to deal with, prompt with responses & accommodating with deliveries & times. I would have no hesitation in recommending EZ rentals to anyone. As their name implies they are definitely EZy to do business with
Mark Page
16:40 26 Nov 19
Thank you for such exceptional service! Everything was made so easy and hassel free and the delivery driver was an absolute star! Could not recommend these guys more!
jamie rogers
10:11 07 Dec 19
EZ Rentals are amazing. We've rented both fridges and washing machines from them for years. One of the fridges and one of the washing machines did have an issue, but it essentially didn't worry us at all as they came the next day and replaced it without us having to do a thing.I'd recommend this friendly, fast and value for money service to anyone looking to rent..
Loki Neeley
23:45 19 Jan 20
Easy to deal with. Speedy pickup and delivery.
James Lineen
23:00 04 Feb 20
I have been using EZ Rentals for just over a year now and have used 3 different items. The items have all been in great condition, and have had quick replacements for any that have been faulty or stop working. The customer service from the admin team + the drivers you cannot fault. I HIGHLY recommend EZ Rentals to anyone who is after good service, top quality products.
Sophie Caldwell
01:37 03 Aug 20